LiveExpo is the platform designed for virtual and hybrid fairs and conventions, capable of transforming events into immersive and interactive experiences.
A digital location to create personalised and intuitive routes: exhibition area with virtual booths, streaming conferences, digital workshops, online meeting rooms and networking areas allow visitors and exhibitors to live interactive experiences and experience new ways of engagement and networking.
The multi-device usability of the platform provides exhibitors, sponsors and organizers with an easy and immediate management modality for the digital or hybrid event, ensuring maximum autonomy in customising environments, moments of visibility and in content's streaming and archiving.
An integrated personal agenda allows both visitors and exhibitors to optimize meeting opportunities, while an advanced reporting system allows the real-time management of the event, offering the possibility to export users' data and make the most of the generated data's potential.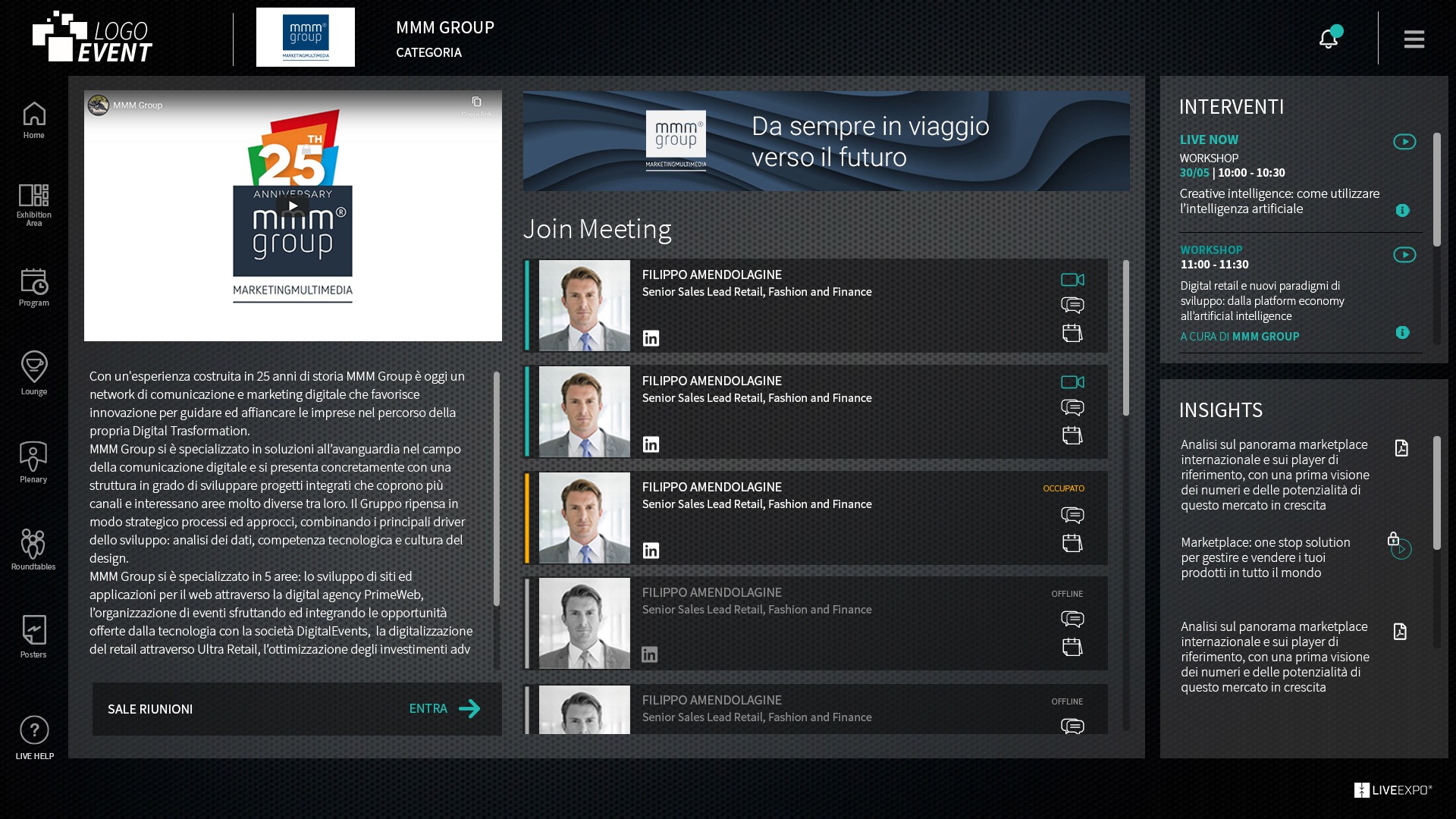 VIRTUAL AND HYBRID FAIRS AND CONVENTIONS FEATURES 
Integrated experience: Availability of all classic main trade-show areas (exhibition area, networking area, conference rooms, workshop rooms, roundtables, one-to-one video meetings)
Customisation: High range for platform customisation, both in the graphic layout and in the implementation and development of additional features
Multilingual: Interface translated into the main international languages, able to ensure the usability of the event by exhibitors and visitors from all over the world
My Agenda: Management of exhibitors' and sponsors' personal agendas, with the goal of booking video meetings by visitors
Virtual stand: A dedicated area to each sponsor where you can consult documents (PDF, images, videos…), view the scheduled interventions and get in touch with exhibitors
Real-Time Replay: Availability of online workshop and conference replays within the platform, immediately after their conclusion
Instant Polls: Integrated management of pre-programmed instant polls during conferences and workshops
Live Q&As: Management of participants' Q&As in conferences and workshops with live audio/video feed (go on stage)
Q&As Moderation: Filtering and moderation of audience's questions during Q&A sessions (both via text and with audio/video feed)
Live Reactions: Possibility to express your satisfaction level during the live streams using a set of emoticons
VIRTUAL AND HYBRID FAIRS AND CONVENTIONS MANAGEMENT
Virtual rooms: Dedicated rooms (staging room, waiting room, translation room) for the reception and management of speakers (conferences, workshops, round tables, etc.)
Push notification: Push messages sent to specific users' classes (e.g. visitors, sponsors, VIP, press, …), for promotional or service purposes (e.g. start of workshop, additional visibility, etc.)
Real-time reporting: Reserved area the event organizer can access tor set-up, monitor and manage the event in real time
Ticket office: Management canon for ticket office (SIAE compatible) throughout our MTicket technology
Data export: Possibility for exhibitors and sponsors to export in real time the participants' personal and event participation related data
Helpdesk: Continuous support to exhibitors, sponsors, speakers and participants, both before and during the event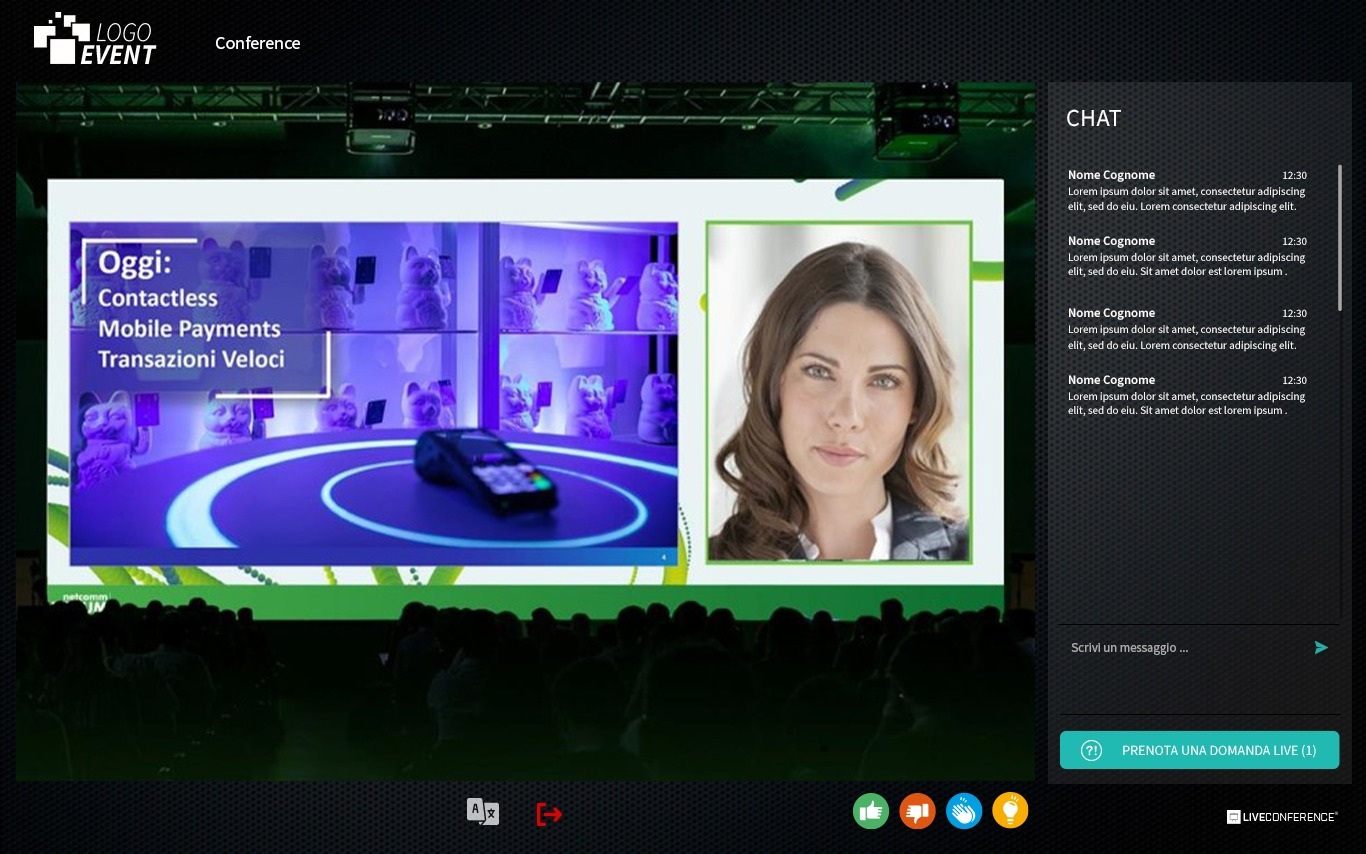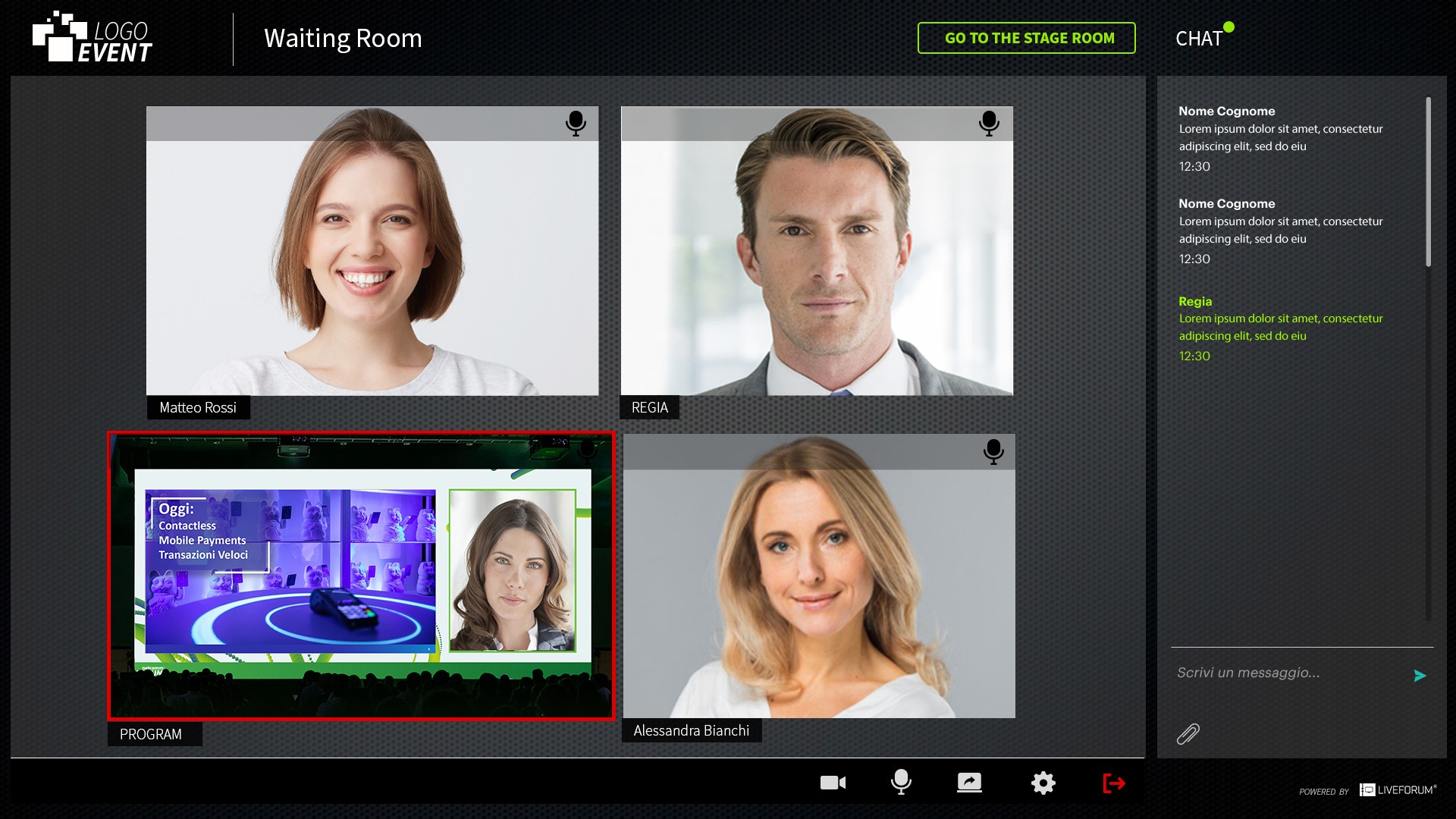 VIRTUAL AND HYBRID FAIRS AND CONVENTIONS TECHNOLOGY
Browser access: Digital fairs accessible through the most common browsers (no need for additional downloads or plug-ins)
Multiscreen design: Platform developed in responsive HTML5, able to ensure accessibility from any type of device (PC, tablet, smartphone)
Audio/Video flows: System can be supplied via WebRTC or live streaming technologies
GDPR compatibility: Servers located in Europe, for full compatibility with GDPR regulations on user data protection
Security: login-protected digital event access, SSL security protocol and firewall
Fault Tolerance: Redundant server infrastructure, streaming and Web connectivity to ensure the highest level of continuity
Third Parties' API Integrations: Possibility of connecting with informative architectures of the customer (CRM systems, LDAP, Active Directory, …) for single sign-on access
China Relay: Broadband streaming access for Chinese users to overcome the structural limits of the "Great Firewall of China"