LiveTalk is the ideal solution for professional webinars, workshops and online seminaries, with live participants' engagement. A smart and customisable product, designed to ensure an efficient user experience.
The webinars are directly accessible from the browser and users have an intuitive menu at their disposal, from which they can consult the program and the speakers' biographies, access a workshop room and a networking area where to interact with other participants activating one-to-one video chat.
The webinar is managed in complete autonomy by a moderator, who administers the speakers' speeches, live Q&As and instant polls. During the online workshop, speakers can share presentations and send documents or other multimedia files via the public chat.
A real-time reporting system, together with a continuous assistance service, help in making the experience simple, fluid and professional for organisers, speakers and participants.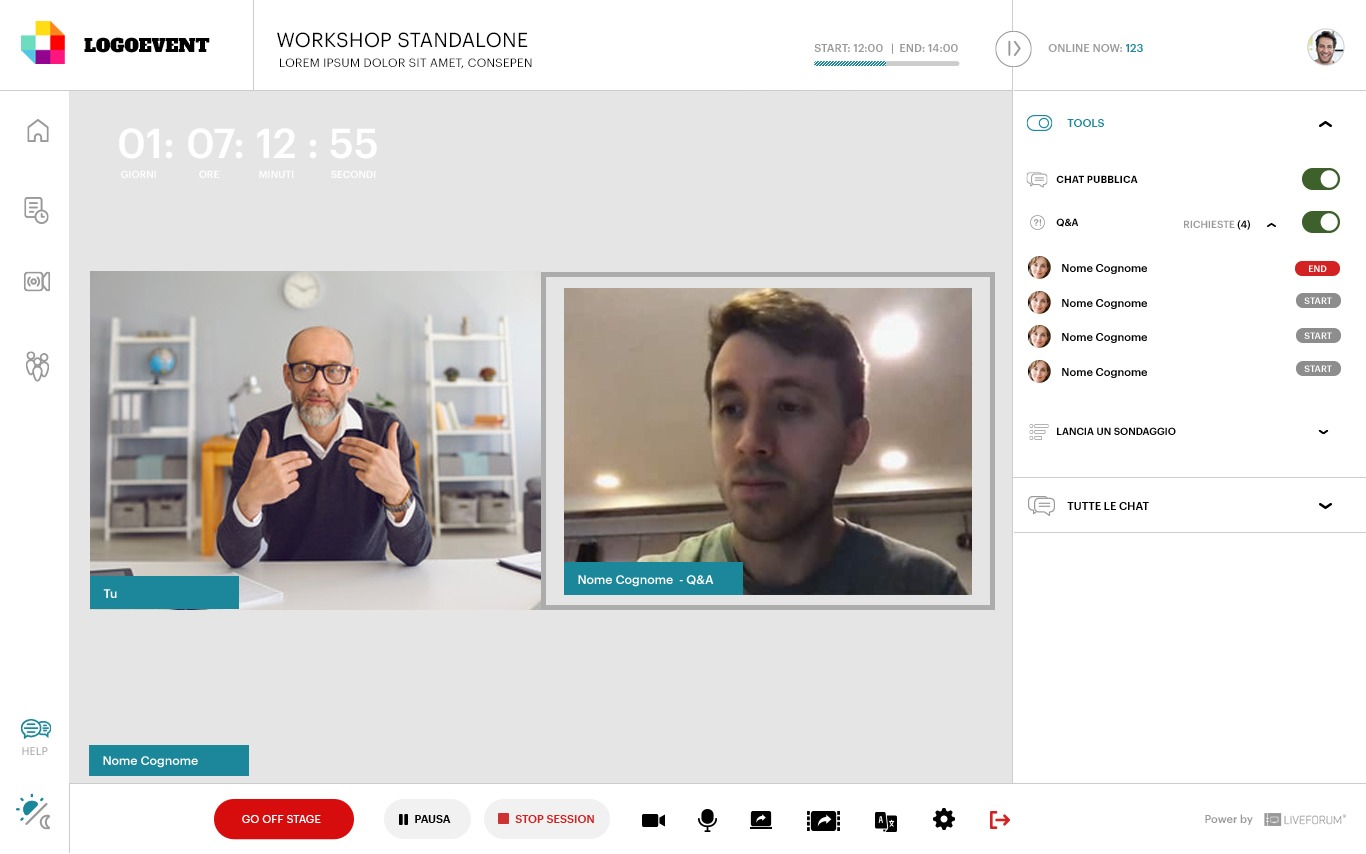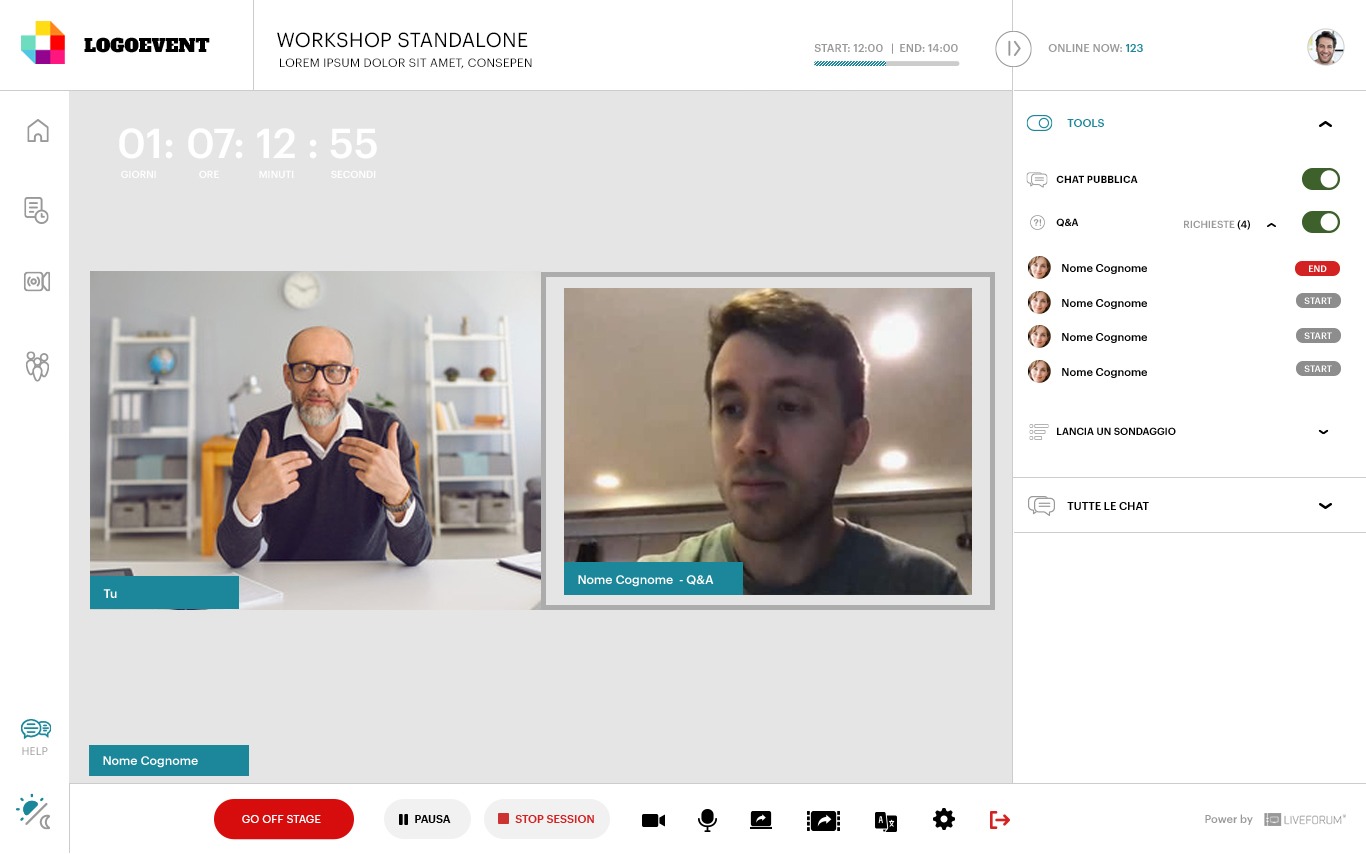 WEBINAR AND WORKSHOP FEATURES
Integrated Platform: complete of workshop area, networking lounge and agenda containing information on the webinar's program and on the involved speakers
Customisation: the webinar's graphic layout, link and content are entirely customisable
Multilingual: available in the main international languages, in order to ensure a global access to the online workshop
Real-time Replay: workshops' replays available online on the platform immediately after it ended
Instant polls: integrated management of pre-programmed instant polls during conferences and workshops
Live Q&A: management of the visitors' Q&A in conference and workshop, live on stage with audio/video stream
Q&A's moderation: public questions' filtering and moderation during the Q&A sessions (both via text and with audio/video feed)
Live Reactions: possibility to express your personal thoughts and satisfaction level during the live streams using emoticons
WEBINAR AND WORKSHOP MANAGEMENT
Registration page: a page with pre-event countdown, detail program and different customized registration fields
Workshop room: possibility to host more speakers together on stage and a maximum of 5.000 online workshop's participants
Speaker's dashboard: availability of management tools for webinar moderators, aimed at managing the speakers' speeches, Q&As and instant polls
Real-time report: real-time webinar's monitoring, with possibility to export participants' data
Helpdesk: real-time support via chat for organizers, speakers and workshop participants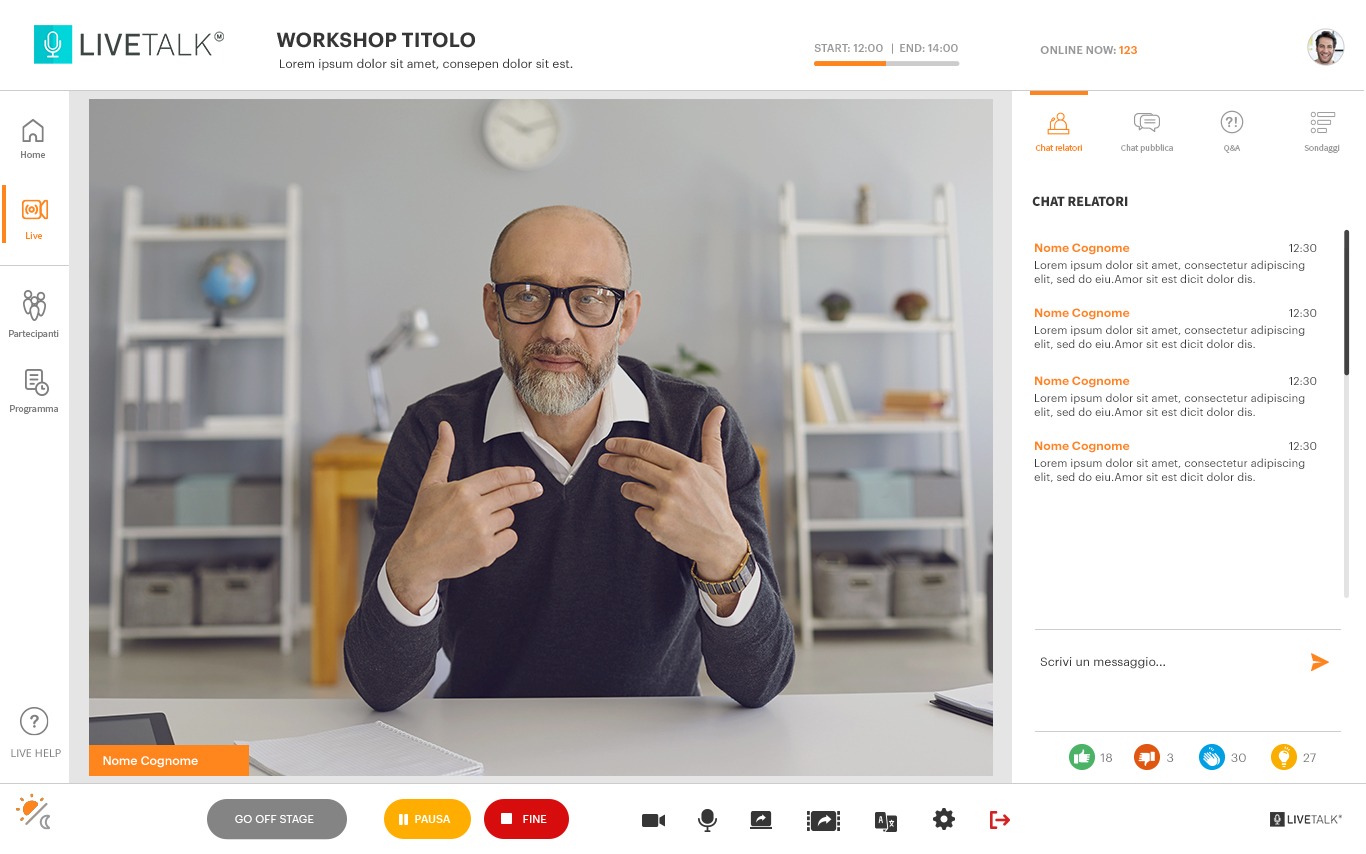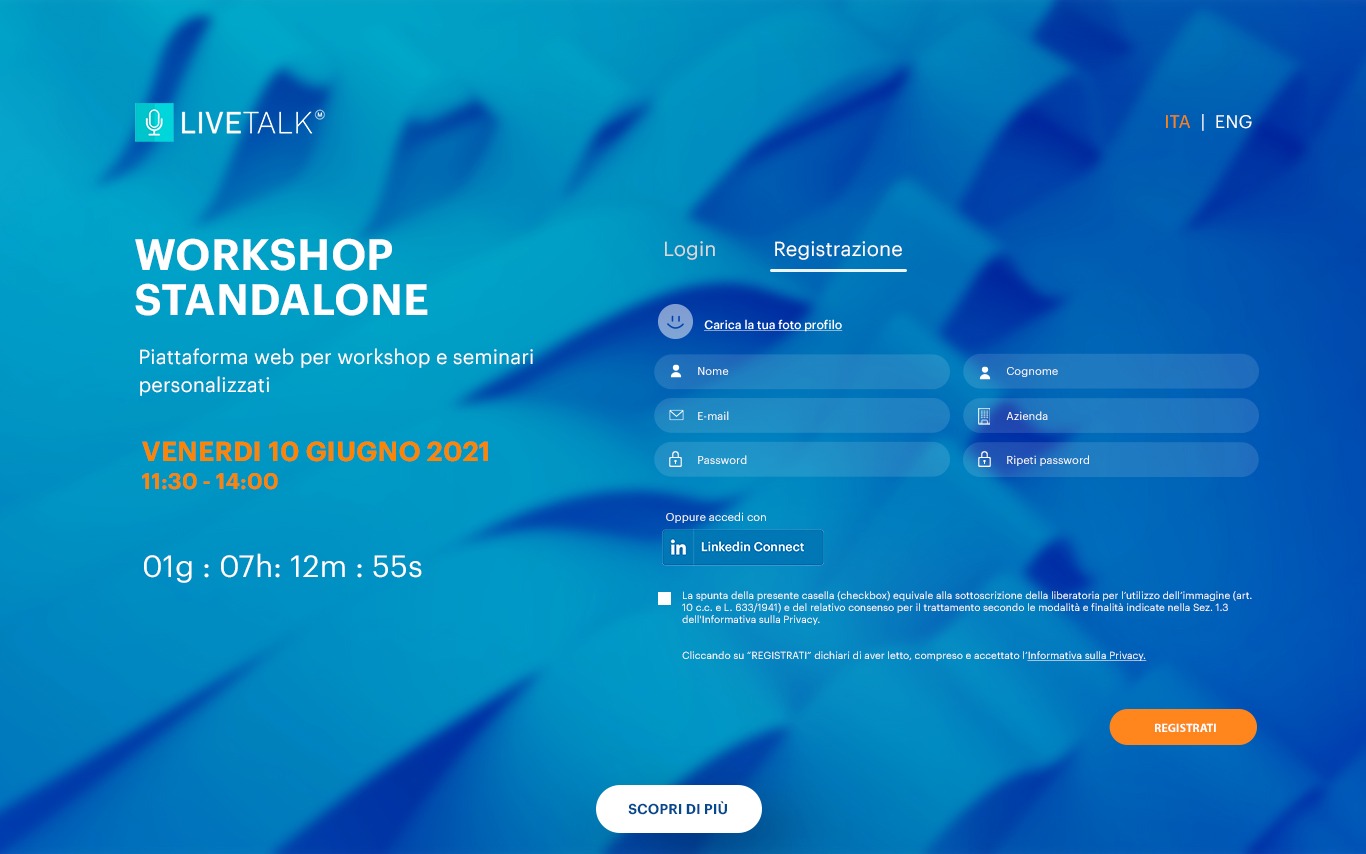 WEBINAR AND WORKSHOP TECHNOLOGY
Browser access: the workshop is accessible using the most common browsers (no need to download or extra plug-in)
Integration on the website: possibility to integrate the webinar's video streaming on the client's website
Audio/Video flows: system can be supplied via WebRTC or live streaming technologies
GDPR Compatible: servers located in Europe, for total combability with the GDPR normative on the protection of users' data
Safety: access to the online workshop protected via login, SSL safety protocol and firewall
China Relay: broadband access to the streaming for Chinese users, in order to overcome the "Great Firewall of China"'s structural limits