LiveVote is the web platform dedicated at the virtual videoconference assemblies with online secret and nominal voting, certificated through SPID identification or with verified OTP sent to a mobile phone. An intuitive and safe solution used by firms, listed companies, associations, ONLUS, cooperatives, unions, condominiums and foundations.
The digital platform includes an agenda in which to consult the order of the day, the members of the board of directors and a viewing area for documents and materials. Furthermore, a system of attendance register is available, which certificate the minimum validity of the assembly and the quorum of the votes. The participants can enjoy of the work of the assembly looking at the relates in the video, and can intervene in the live video and also through the public chat with questions, comments and observations.
Online voting is managed directly on the platform without the need of using any other software, app or plug-in. It is possible to express the vote using different modalities (single vote, multiple votes, weighted vote and secret vote), with registration's confirmation. The polls' result is gathered and shown to the authorized users (e.g., assembly's president, notary…)
Compliance with current regulations and a reporting system that can be consulted by legal entities guarantee the total security and transparency of the virtual assembly online voting, as well as accuracy of results. Via chat assistance is provided for a continuous support to assembly organizers and participants.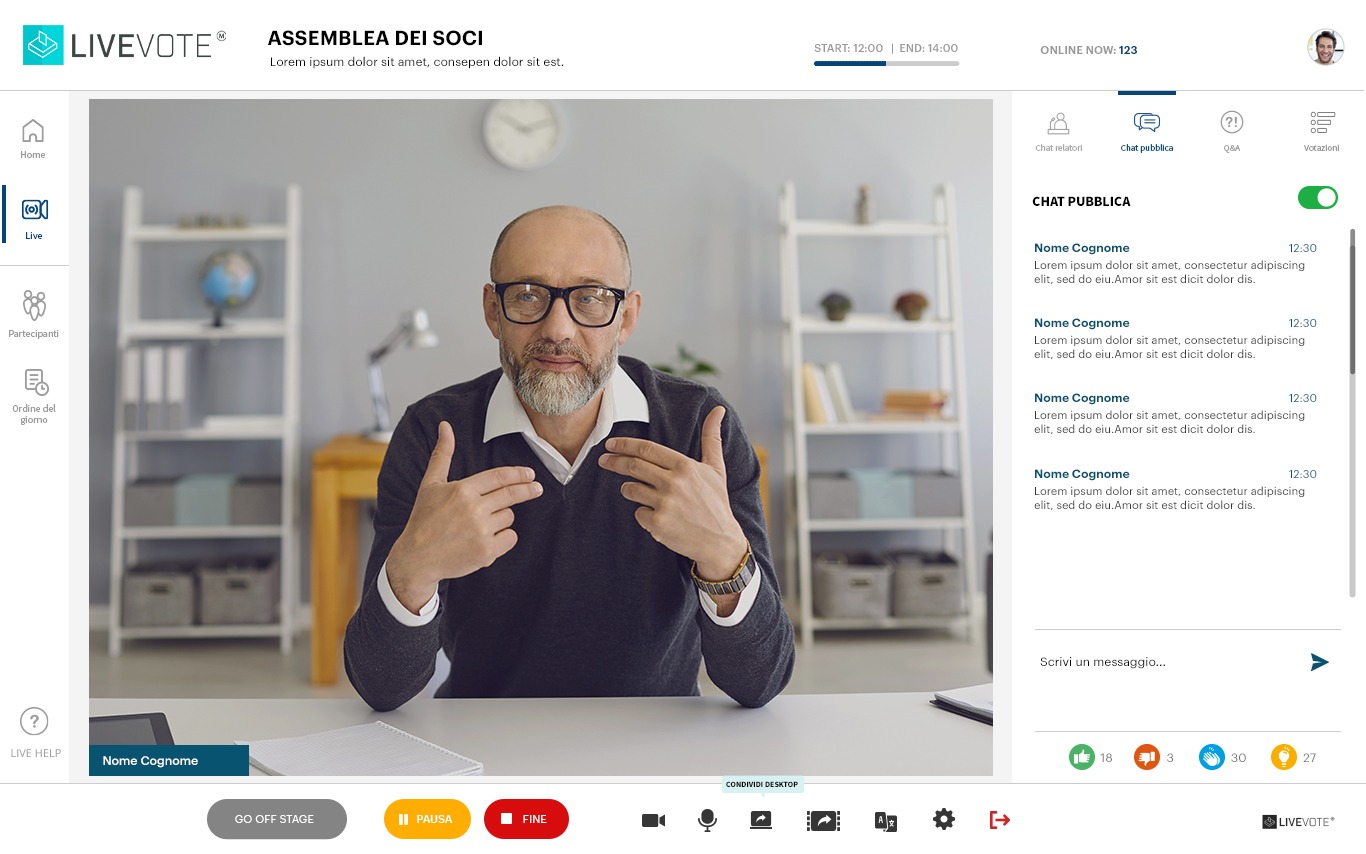 ASSEMBLIES WITH ONLINE VOTING FEATURES
Integrated Platform: The platform is developed both for the presences' management, and the online voting, in total security and legal soundness
Customisation: The webinar's graphic layout, URL and content are entirely customisable
Multilingual: Available in the main international languages, in order to ensure global access to the online assembly
Real-time replay: assemblies' replays are available online on the platform immediately after they ended
Live Q&As: Management of assembly participants' Q&A with active audio/video feed
ASSEMBLIES WITH ONLINE VOTING MANAGEMENT
Attendance Register: Archiving system able to verify and count in real time the presence of participants
Documentary Area: Repository for uploading and consulting files of different formats (Agenda, official documents …)
Voting module: online voting modality with the possibility of expressing a single vote, a multiple vote with proxies, weighted vote and secret vote
Diverse databased: Possibility of importing different databases (registered members, delegating parties/delegates etc.) and of appointing participants with different profile types based on their roles
Reporting: Monitoring system that records user activities and ensures the certainty and validity of voting results
Helpdesk: via chat support for organizers and participants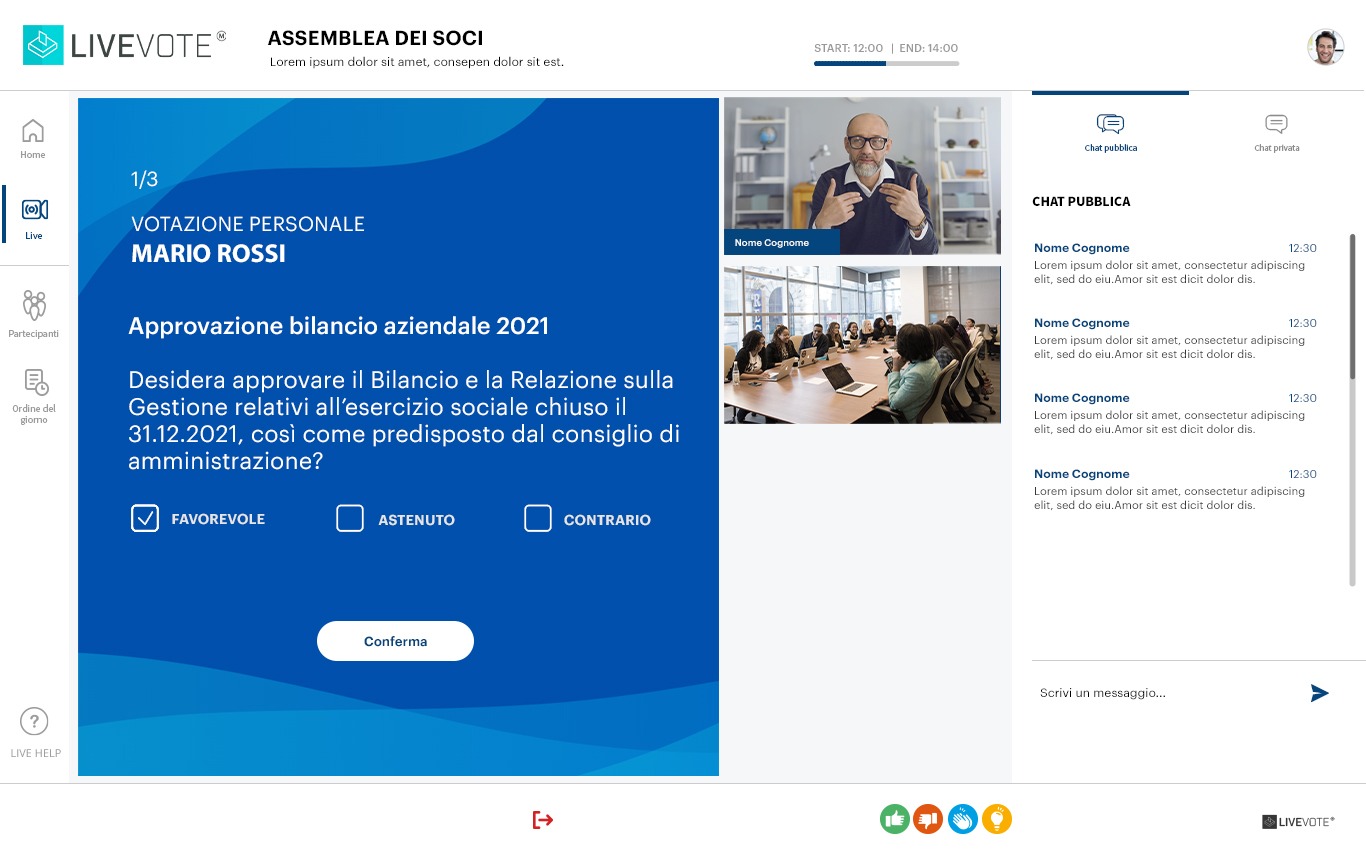 ASSEMBLIES WITH ONLINE VOTING TECHNOLOGY
Browser access: The voting assemblies are accessible using the most common browsers (no need to download apps or extra plug-ins)
Audio/Video flows: system supplied via WebRTC technology, which ensures stable and real time audio/video connections all of the world.
GDPR Compatible: servers located in Europe, for total compatibility with the GDPR normative on the protection of users' data
Safety and authentication: Access to the digital assembly is protected by login, with authentication certificated through SPID or OTP via SMS, complete SSL protocol of safety and firewall