LiveShop is the customized solution for live shopping and digital showrooming to increase sales (both online and in store) and improve customer engagement, aiming at enhancing the shopping experience towards a modern concept of interactive and instant digital shopping.
Perfectly integrable on the e-commerce platforms, LiveShop makes it possible for the client or prospect to join the sales staff online and start a video meeting to request an immediate conference or to plan an appointment. The video call can also be done with other participants if the clients ask for it, with the purpose of sharing comments and requests on the presented products.
During the video meeting, it is possible to activate the webcam and share the screen to show the products in detail and talk, send messages, images, offers, price lists and brochure via chat.
The seller or the commercial consular then have a reserved area at their disposal to manage their own profile and personal agenda, to create availability slots which will be shown to the customers and to view the held conversations record, i.e., the data of the clients who asked for a consultation.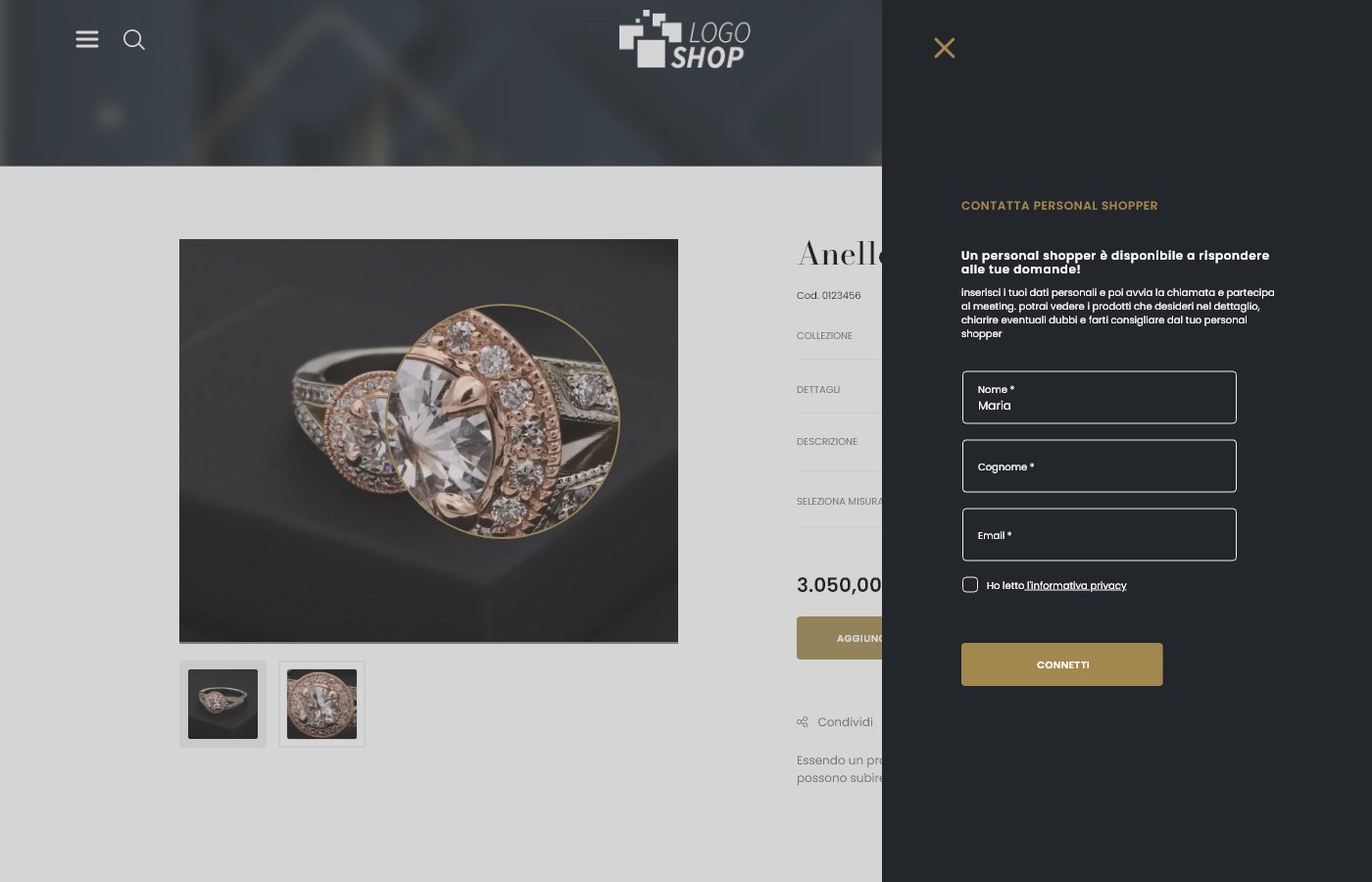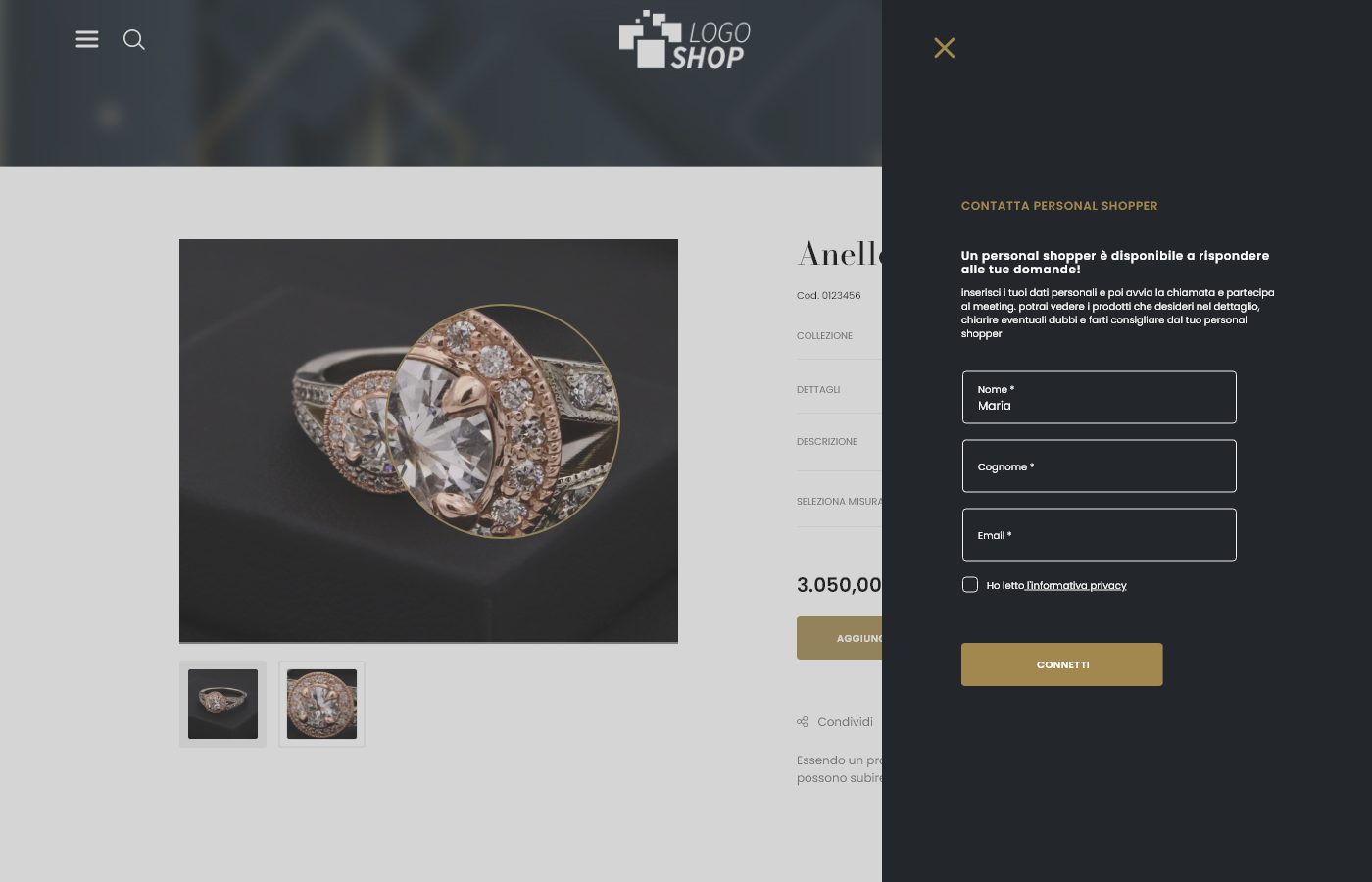 LIVE SHOPPING FEATURES
Customisation: Custom link and customisable graphic layout with cover, logo, background image and corporate colours
Video meeting: The virtual room is developed to manage the private video meetings between the client and the sales staff
Sharing: The videocall can be shared with other family members or friends involved in the evaluation and choice of the product
Accessibility: The commercial advice video-session is directly accessible from the corporate e-commerce website or from a link sent via email (in the case of an appointment)
Integrated Chat: Pop-up chat available to all users in the room in order to exchange messages and documents (e.g., PDF, images or videos)
LIVE SHOPPING MANAGEMENT
Products' Presentation: possibility to share products online or on a shelf in real time, enriched with informative material (es brochure, lists…)
Access Protection: Padlock functionality to make the conversation private and prevent access to the meeting room for external users
Room configuration Each room can be configured with all audio/video devices integrated into or connected to the computer (external devices included)
Reporting: The sales staff can see all past conversations and lost meetings and access all client's data
BackOffice: Reserved area accessible by the consultant to manage their profile, set up the online/offline status, create availability slots and activate the videocalls reception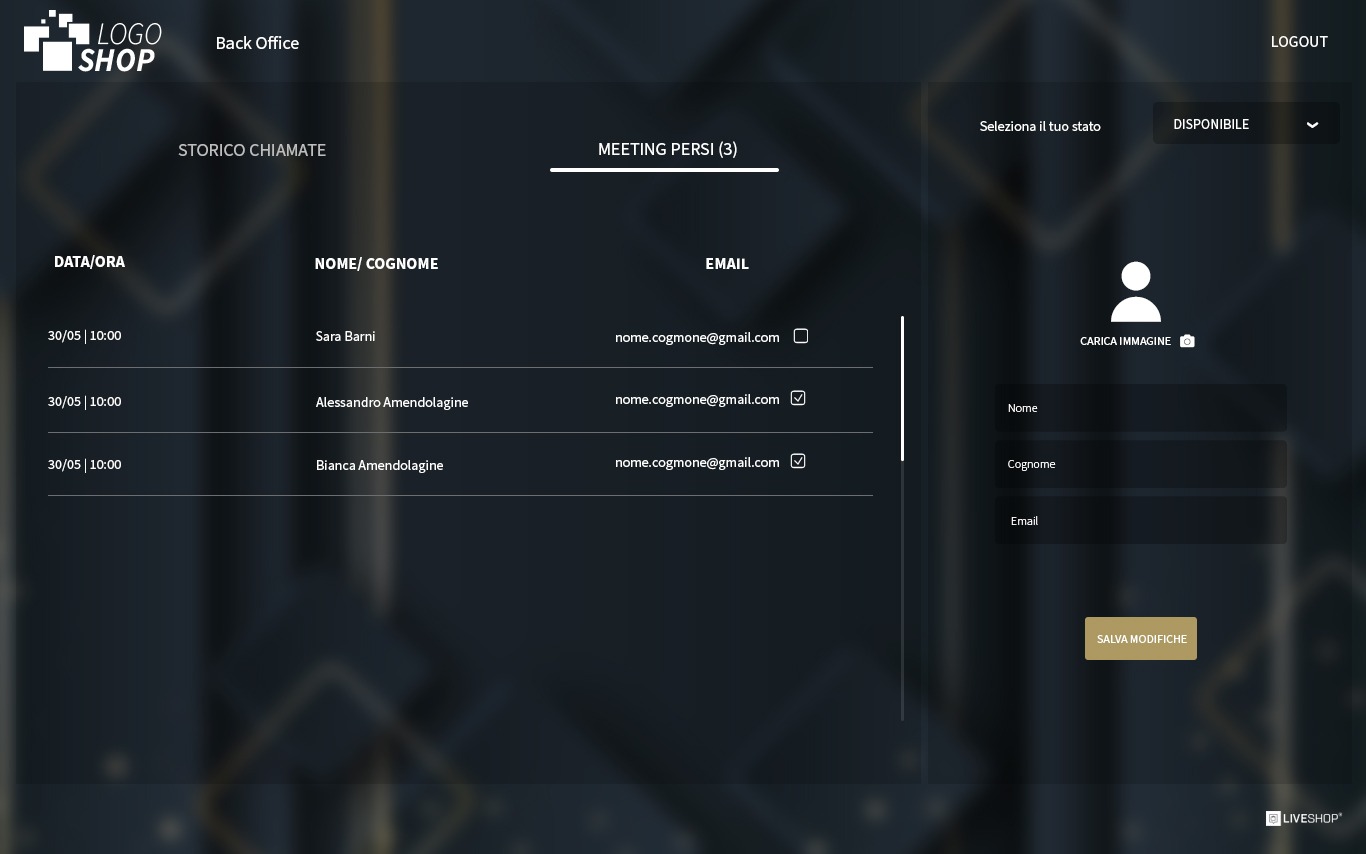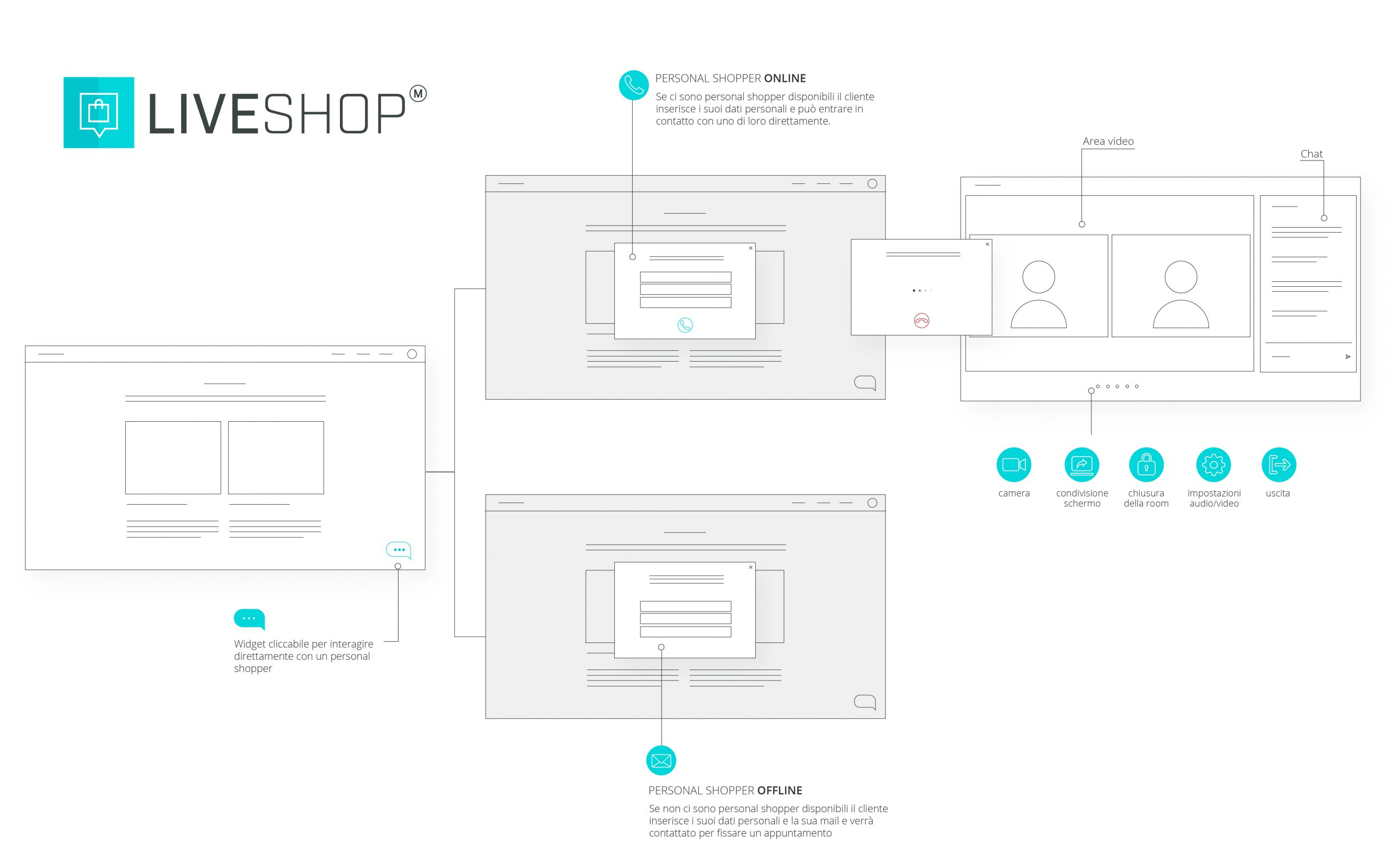 LIVE SHOPPING TECHNOLOGY
Browser access: Live shopping session accessible using the most common browsers (no need to download or extra plug-in)
E-commerce integration: Possibility to integrate with the showcase website or with the product cards of the online shop
Multiscreen Design: Platform developed in responsive HTML5, able to assure accessibility from any type of device (PC, tablet, smartphone)
Audio/Video flows: system supplied via WebRTC technology, which ensures stable real time audio/video connections all over the world.
GDPR Compatible: servers located in Europe, for complete compatibility with the GDPR normative on the users' data protection
Safety: Access to the room is protected through SSL safety protocol and firewall